Kitchen Remodeling Contractor
Servicing Burlington and Waukesha Wisconsin (and surrounding areas)
The functionality of your kitchen is important. You need to be able to prep, cook, entertain, organize, and really enjoy your area. When your kitchen isn't set up in a way that works for you, isn't modern, or lacks in any area really, it can be frustrating. Elite Improvements specializes in custom kitchen remodels from complete replacement to minor renovations and everything in between.
Find out what our kitchen remodeling contractors can do for you; contact Elite Improvements.
SE Wisconsin Home Remodelers Design the Kitchen of Your Dreams
Our remodeling contractors love getting creative and can help you design your dream kitchen. We truly have a passion for what we do. Our skills combined with experience, knowledge and creativity are unmatched. We work efficiently and diligently to ensure long term value and your ultimate satisfaction.
We also stay up to date and in tune with a wide range of products and materials to be able to provide you with the best options and advise you knowledgeably. We only suggest options we deem worthy in quality, dependability and value.
Things to start thinking about for your custom kitchen remodel:
Cabinets – your cabinet options are vast, both in their look and performance. From material and color to configuration and hardware, we help you every step of the way.
Countertops – the amount of countertop space you have is just as important as its visual appeal and durability. Quartz, granite, marble, solid surface, etc.; your options will be carefully laid out and your choice flawlessly installed.
Flooring – flooring makes a huge difference in your kitchen's aesthetics and function. We'll help you determine the best materials for your unique needs – including wood, ceramic tile, linoleum, natural stone, and more.
Island – maximize your space and convenience an island that features a sink or adds counter space, extract storage, and/or seating.
Storage and Organization needs – we'll make sure your design incorporates effective, space saving storage areas; whether it's better cabinets, a pantry, or a creative organization solution.
Appliances – the right appliances an essential part of the function of your kitchen and our design. We'll consider all of your desires; dishwasher, ovens and stove tops, sinks, refrigerators, and more.
Lighting – from windows for natural light to overhead lighting, our home improvement contractors will help you choose the best solutions for your space and needs.
Sink Fixtures – your sink may be one of the biggest inconveniences of your current kitchen. Solve your dilemmas with a sink that fits your exact needs; from its size, shape, spout, sprayer, and garbage disposal.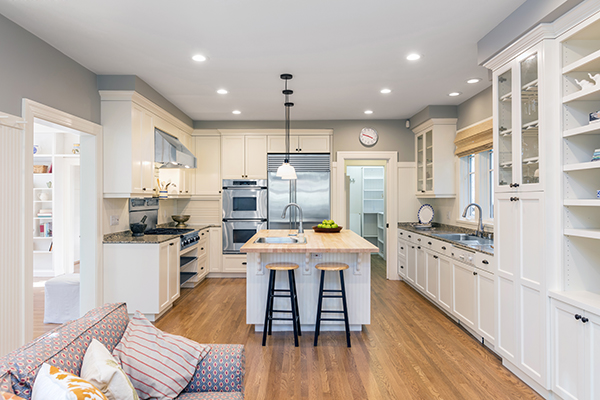 Kitchen Renovation Experts Make Remodels Easy
Remodeling your home can be stressful; there are a lot of decisions to make and every one comes with a cost. Elite Improvement's kitchen renovation experts will listen to your ideas and discuss solutions meeting the unique needs of your home and any new functions you desire. Homeowners in SE Wisconsin enjoy working with our team of remodelers because the experience is easy; we make sure you know exactly what to expect going in, and keep you up-to-date on progress and costs throughout the project.
Keeping you informed is only one reason to choose Elite Improvements for your kitchen remodel. Our goal is 100% customer satisfaction, we're not completely happy until our clients are! So we go the distance to make sure the work we do stands strong and looks great. We know the remodeling process can be difficult and you may change your mind on a couple things or have more questions. You will not be intimidated by our contractors; we make sure you feel comfortable asking questions and telling us about your concerns.
Sick of Your Kitchen? We Can Remodel That!
If limited counter space or an odd layout makes cooking in your kitchen hard, we can help! Maybe your kitchen is still living in the 90's and needs an update. Need more space? We also offer custom kitchen additions and bump-outs. Whether you're renovating your kitchen for yourself or the sale of your home, Elite Improvements is the right choice.
Let our Burlington remodeling contractors know what ideas you have brewing and we will find a way to make it happen for you!
Contact Elite Improvements for your Free Kitchen Remodeling Estimate today.