Bathroom Remodeling Contractor
Servicing Waukesha and Burlington Wisconsin (and surrounding areas)
Elite Improvements brings experience and passion to the table for your new bathroom remodel. Our professional remodeling contractors are in tune with a wide range of techniques, products, and materials to meet any of your requests and find the best solutions for your budget and style.
We love getting creative! From design through execution, we are here for you every step of the way. Whether you have a precise vision in mind or you have plenty of ideas but need help putting them together in a design – we love what we do and we do it for you! We understand how important the bathroom actually is. Not only is it one of the most used rooms in the house by your family, but also by your guests! Functionality and appearance both play a very important role in making your bathroom just right.
Once you have successfully decided on your new bathroom design, the unique and fun decisions arise: selecting color schemes, vanities, cabinets, counters, single or double bathroom sinks, bath tubs and every other element that helps set the tone of your bathroom. The bathroom tile may be one of your most difficult decisions solely due to the vast amount of styles, colors, and sizes to choose from. Luckily Elite Improvements can help you with all of this!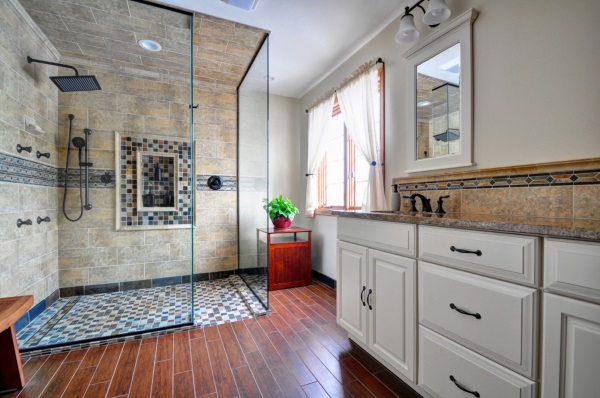 Bathtubs and Showers
Choosing a new bath tub is one of the more exciting remodeling decisions. This is your chance to get rid of that old, uncomfortable rectangle tub and upgrade to something rejuvenating, something massaging, something more like a whirlpool tub or a soft bathtub. Maybe you simply wish to improve the look and feel of your old tub by covering it with a new shell. Whatever your end goal – we our here to deliver.
Renovation or Remodel
Elite Improvements is the premier choice for both home remodeling and renovation services in Waukesha and the surrounding areas. Whether it's a full remodel – expanding the square footage of your bathroom and other structural features – or a simple renovation where we replace worn out flooring, your old bathtub and toilet, and pull down wall paper to repaint; we make sure you're getting the most for your money and the results promised.
Contact Elite Improvements for your free bathroom remodeling estimate today!